🥋If you're looking for influencer services from Dear Mishu, click here
So you've found your Pinterest audience, you've built high quality Pinterest boards (such as my influencer boards 😊?), you've often added content to those awesome boards (rich pins too, whatever it takes), and as for regular pins – you've made sure they are very thoughtful, resonate with your audience, are visual, and vertical in a perfect way — just perfect for your audience. Your Pinterest audience grew, and they re-pinned, and they saved, some of them even commented, and you even got Google traffic.
And yet your business still makes no money 💁🏽!!.
Perhaps this is the time for you to look into adding Instagram to your business assets, and get some money from brand deals, so you can bring more bread from your side hustle? Many do that, many even make a living (and some even get very wealthy) from doing brand deals on Instagram.
What are Instagram Brand Deals
People refer to those Instagram posts with the label "paid partnership" or "Sponsored" or "Ad" as "brand deals." It's the main way SMIs (social media influencer) can make a living. Here are some examples:
Brand deals can be for any product or service that you love – red flip-flops, vitamins, cosmetics, cat food, coffee cups, apps, cars, you name it. They are contracted deals between you and the brand, where you recommend to your Instagram audience to use the brand products, and – in return – get compensated (often with cash, which can be from $150 to $2M) for such endorsement. It's awesome!
Brand deals are doable, and here are the steps to achieve that:
Step 1) Open an Influencer Instagram Account
Yes, that's right, to get brand deals you'll have to dress for success from day A. If this means dressing as a successful SMI, then that's what we'll do – don't work only on Pinterest – open (or expand your existing) a damn Instagram account and dress for success there.
Pro tip: If you have 10,000 followers, open a "Creator" account on Instagram, so you can enjoy tools for brand deals, such as tagging a brand in your posts, analytics, templates, reporting, etc:
Related: Why Instagram is the Influencer Winner
Once you have the account, it's time to set yourself up to win. First is your bio:
Step 2) Your Influencer Bio
Once you've opened you Instagram account, the Bio area (that's the area that has your photo, name, descriptions, and intro of who you are) is the first thing your visitors will see so dress for success there ASAP and add the following components to it:
Representative photo of what you do (read here for more: https://www.dearmishudad.com/your-social-media-profile-photo/)
Name and extensive name (eg. "Rise of the Alien Queen ☁️")
3 Hashtags with less than 600k uses (eg "#lifestyle_miami" instead of "Lifestyle")
Good story-telling about what you do (you may like to add emojis…)
Integrate keywords related to what you do in the description of your bio (good for SEO)
CTA (Call-to-Action, eg. "↴ 𝐮𝐩𝐠𝐫𝐚𝐝𝐞 𝐲𝐨𝐮𝐫 𝐬𝐞𝐥𝐟 𝐜𝐚𝐫𝐞 ", "⤺ shop our posts, presets & more")
URL (of your website, other social media, linktr.ee, your IMDB or Amazon page, etc. or of an organization you believe in)
And last – update your bio often (e.g. "planning a wedding with 💍 @kennycallis")
All of those will make your Instagram "door entrance" a desirable place to get to know you, AND to visit frequently.
Here are some good examples:
Step 3) Your Instagram Influencer Content
To land brand deals you'll need to create great content: original, not-intrusive, intriguing, super interesting, great point of view…:
Taking into the account your blog and/or Pinterest content creation, sure you can do that!
As for when to post and how often – you can find the answer through many tests – post sometimes at 12 noon, sometimes at sunrise, sometimes daily, sometimes not, and write down the results (see KPI section below). Decide accordingly and not based on others experience with other communities, because the community you'll create is unique.
Rule of a thumb though is to try to post regularly, whenever you have good original content, and when you can trigger emotions.
Add up to 30 hashtags to each of your posts (some add them in the comments)
Step 4) Your Influencer Influence
Most brand deals are done when the brand you love* finds out that you can influence, where influence is defined as "changing opinions." This means from day one (maybe you'll do that planning on Pinterest) you'll need to find out how you'll be unique and create a community that will be very excited to view your Instagram posts on daily basis, and to LISTEN to you.
*As an SMI, if you promote a brand you don't like, it will show, it will not come across as truthful, and therefore you'll lose credibility.
In most cases finding ways to create a dialog and trigger emotions leads to people do exactly that (following your advice). I've tested myself many methods for triggering emotions, and share them here.
With this in mind, perhaps don't waste your time on inviting just ANYONE to be your Instagram follower – after all BIG accounts do not necessarily equal BIG influence if your followers are from different planets…. That's right, don't confuse building followership with influence. Instead, invite those who care:
Pro tip: Very important for closing future endorsement deals – invest in followers who care about, or are potential targets for, the brands you hope to represent. For example, if you are Cortado coffee only advocate, and see that someone who wants to become your follower is an only tea person, and on top of that never engages with anyone, that is a person who is unlikely to engage with your account or be valuable to brands, and probably shouldn't be added as one of your followers.

Source: https://www.dearmishudad.com/guide-how-why-add-followers-social-media-influencers/
Related:
Your Guide to How and Why to Add Followers for Social Media Influencers
Decide: Do You Want the Influencer to Influence, or… Not?
Step 5) Your KPIs
KPI stands for "Key Performance Indicator." It's a quantifiable data point that allows brands to evaluate their SMI success against specific targets and objectives (on Instagram in our case).
My approach is to use very PRACTICAL, useful KPIs, such as Tagging, quantity of comments on your posts, how many of your followers sent your post to their friends or bookmarked your post, etc:
Step 6) Approaching Brands
Once you see some traction on your Insta accounts (your comments area is very active, great KPIs, a referral from a happy brand you worked with, news mentions, etc, you will know it when you see it) , you can start approaching brands you like. For that, guerilla marketing tactics are usually in place to start…
Here are some examples: tagging the brand in your post; a short DM to your favorite brand to "say hello" and that you will post about them from time to time; meeting the brand team offline (conferences, events, etc.) to establish a good relationship; Marketplaces (such as TRIBE and influencer.co); saying "thank you" when the brand does LIKE or comment on your post, etc. Be creative, be a guerilla…
7) Your Health
This step is part of every step that is mentioned above – it's hard to be a SMI because most people don't know what it means (they think every single SMI is a big publicly famous beauty super-celeb, and very entitled spoiled, rotten, without ethic to boot). People can be mean to you, and you will be scolded sometimes.
Make sure to take care of your health – therefore – all the way, whether it's meditation, yoga, hugs, etc – because life is good and all you want is to make a living, and there is nothing wrong about that. There's nothing wrong with being a small business owner neither.
Related:
I'm being criticized for being an Influencer – how to respond? #InfluencerTips

Did you say that small businesses are good for the US economy? I say Micro-Influencers are even better.

Good luck Pinterest heroes, you can do it – good luck in becoming Instagram SMI!
Bonus: success story, originally tweeted by Ian Borthwick on August 18, 2020.
---
While everyone called influencer marketing a fad…
…a 19 year old created the $1.3B Gymshark empire.
Thread 👇👇👇
1/ Launching a new product is tough.
Tougher without almost no budget.
That was the situation for Ben Francis.
A pizza boy launching an apparel company from his mom's garage.
So Ben got creative.
2/ Ben put it all on the line for the 2012 UK fitness expo.
Self-funded, he spent every penny on a booth & hiring niche fitness YouTubers to show up.
The bet paid off.
The booth was a hit. The YouTubers were a hit.
He made $42k the first day.
3/ Ben realized influencers were Gymshark's secret weapon.
He couldn't compete with Nike & Under Armour's big brand TV budgets.
But these brands overlooked social, and the communities that influencers were building.
This was his opening.
4/ Smart now, but a groundbreaking move in 2012.
Gymshark tripled-down, owning the fitness influencer community.
By 2018, they hit $100m in sales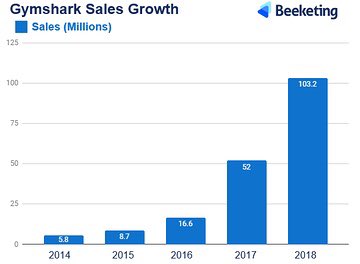 5/ Last week, Gymshark sold a 21% stake of the company at a $1.3B valuation. All without raising money till now.
Congrats @Gymshark @BenFrancis1992
Related:
Here are some things I've seen influencers do to pay their bills. Source: https://www.dearmishudad.com/how-influencers-make-lots-money/

RapidSongs makes audio and video edits on TikTok for a living

Make Money as an Influencer: TipJars

MR Beast is launching a resturant chain via ghost kitchens, AND his App is #1 on AppStore…

Mariana – an influencer – is selling her book via instagram bio – an example

Dan Frommer – $20/mo paid newsletter membership for marketing execs, investors, and tech news junkies

Dixie (left) and Charli D'Amelio are two of TikTok's biggest stars—with nearly a collective 130 million followers—and have now launched a podcast, "2 Chix." (Photo by Getty Images/Getty Images for EIF & XQ) Getty Images for EIF & XQ

"Sponsored by…": an Idea to make a living as a social media influencer: get sponsors that are related to what you do.

Influencers can make money from follower donations

Jiffpom – a dog influencer – "find me at Walmart"

Twitch already has a tipping and subscribing feature

Huda Beauty is by Huda Kattan, an influencer

Your Turn: Learn How with 1:1 Coaching DearMishuDad.com/11
---
Related:
If It Can't Be Transactional, Then What Am I Getting from Influencer Marketing at All?


Sincerely yours,

SMI* = Social Media Influencers